Patricia Clarey, Member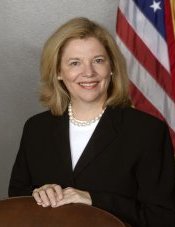 Patricia Clarey of St. Helena was appointed to the Board in 2005. Ms. Clarey currently serves as Chief State Health Programs and Regulatory Relations Officer for Health Net, Inc., one of the nation's largest publicly traded managed health care companies providing health benefits to approximately 6.7 million individuals. Ms. Clarey is responsible for federal and state regulatory and legislative relations, internal and external communications, Health Net's charitable foundation, and the company's compliance activities. Ms. Clarey has over 25 years of health care and insurance experience in both public and private sectors and has an extensive background in policy and the legislative process having directed federal, state and local government affairs for two major corporations.
Prior to serving as Chief of Staff to Governor Arnold Schwarzenegger, Ms. Clarey was Vice President of Governmental Relations at Health Net, held senior management positions at Chevron Corporation and Transamerica Corporations, and served as President of the Transamerica Foundation. Additionally, she served at senior levels in the Department of the Interior in President Reagan's administration and was former Governor Pete Wilson's Deputy Chief of Staff.
Ms. Clarey currently serves on several appointed boards and commissions, and was a Senior Fellow at the John F. Kennedy School of Government at Harvard University and a Senior Fellow at the UCLA School of Public Policy. Ms. Clarey earned her Master in Public Administration from Harvard Kennedy School and her Bachelor of Science from Union College in Schenectady, New York.