Maeley Tom, Member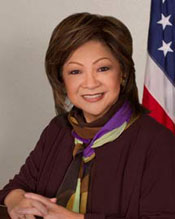 Maeley L. Tom of Sacramento was appointed to the Board in 2003. Ms. Tom is the founder and CEO of the public affairs firm Tom & Associates and was the former Senior Vice President of the Washington D.C. based public affairs firm Cassidy and Associates.
Ms. Tom spent 20 years in the California Legislature holding the unique distinction of serving in chief staff positions in both houses. In the State Assembly she served as the Chief Administrative Officer of the Assembly under former Rules Committee Chairman Louis J. Papan and Speaker Willie L. Brown, Jr. In the State Senate she served as Chief of Staff to the former Senate Pres. Pro Tem David Roberti. Prior to her government relations and legislative career, Ms. Tom served in personnel management positions with the California State University of Sacramento, the Liberty House retail chain in Honolulu, Hawaii and the Host International Corporation at the Honolulu International Airport.
Ms. Tom was the board representative to the CalPERS board from 2006 – 2007. She was a former appointee of President Reagan serving on the Women's Small Business Ownership Commission and was appointed by President Clinton to serve on the U.S. Platform Committee to the UN Women's World Conference in Beijing. She also served on the Executive Board of the Democratic National Committee from 1989 – 1997. Governor Gray Davis appointed Tom to his Diversity Task Force before he appointed her to the State Personnel Board in 2003.
She was the co-founder of the Capitol Asian Legislative Staff Caucus, the California Asian Youth Leadership Project and founding president of the California Asian Pacific Islander Legislative Caucus Institute. She currently serves as the co-founding Chair of the Association of Asian American Investment Managers.
She was the former hostess and producer of KXTV Channel 40 community affairs program, Facets, and was the former political columnist for Asian Week.
Ms. Tom holds a Bachelor of Arts degree from the California State University of San Francisco.